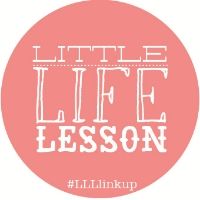 Welcome to the first ever Little Life Lessons link-up!
I'm so excited to be hosting this link-up with Amy from Sweet Home Santa Barbara!
For those of you who don't already know, Little Life Lessons was created when a group of twenty-somethings decided to team up and write to encourage and challenge other twenty-somethings out there who may be in similar seasons of life! So every other Thursday, another blogger and I will host the party, and if you have a little life lesson to share with twenty-somethings, we'd love for you to link up with us! You'll find more details at the end of this post!
((this is a post I wrote a couple weeks ago for a guest post on another blog,
but I felt like it would be a great lesson to share today!))
If you're anything like me, you have thousands of songs in your iTunes library. I highly doubt you could list them all. But for the most part, they're all songs, albums, and artists you enjoy hearing. You may like some more than others, but I'd be willing to bet you don't have many songs in your library that you absolutely hate.
So do you ever set your iPod on shuffle and just listen to whatever happens to play?
Aside from the fact that you might not be in the mood for a certain song or a certain genre, you're probably fine with listening to whatever comes on because you chose the music that went onto your iPod based on your music taste. Am I right or am I right? :)
In a season of transition, our life is kind of on shuffle mode and God's the one choosing which song he wants to play. We don't always know what's going to come next, but guess what...he does.
You see, I've learned through this transition that it's not always easy. Especially if you're a control freak like I am, it's hard not having the answers. Life is so much easier when it goes according to plan. Our plan. But step back and ask yourself this question: Do I really trust myself (my human, imperfect self) to plan my life? I bet I can guess your answer.
That's why it's so crucial that we leave it up to God.
I'm not saying it's easy, and I'm not saying it's always fun. But God is so much bigger than us, so much wiser than us, so much stronger than us, and frankly, he doesn't need our help.
Since we know God is good, he loves us, he cares for us, he's faithful to us, he keeps his promises to us, he protects us, he guides us, the list could go on and on...since we know all of those things, we really should be okay with whatever song he chooses to play next.
Trust God with your playlist. He's got it under control.
"My thoughts are nothing like your thoughts," says the Lord

.

"And my ways are far beyond anything you could imagine.

For just as

the heavens are higher than the earth,

so my ways are higher than your ways

and my thoughts higher than your thoughts.
Isaiah 55:8-9
--------------------------------------------------------------------------------------------------------
Ready to link up? Here's how:
((1)) Add your link below. Please link to a specific post on this topic, not to your general blog or to giveaways, shops, etc.
((2)) Grab the button and put it in your blog post or link back to lindsayladon in your post.
((3)) Visit others who link up and leave comments telling them how they encouraged you!
((4)) If you tweet about the link up or about your blog post, use the hastag #LLLlinkup.
lindsay